I'm really excited for the upcoming Spring season for several reasons. First, who doesn't love the Spring time?! The warmer weather and budding flowers and trees are something I always look forward to. Second, this season is going to be bustling with opportunities for our CRBC women to connect with one another and grow in their relationship with our Gracious God.
As you scroll through the events, keep the CRBC Women's Ministry mission in mind. Our desire is to: CONNECT women to God and each other. EQUIP women to grow in their faith and relationships. INSPIRE women to use their God-given gifts to boldly impact the world for Christ.
MARK YOUR CALENDARS!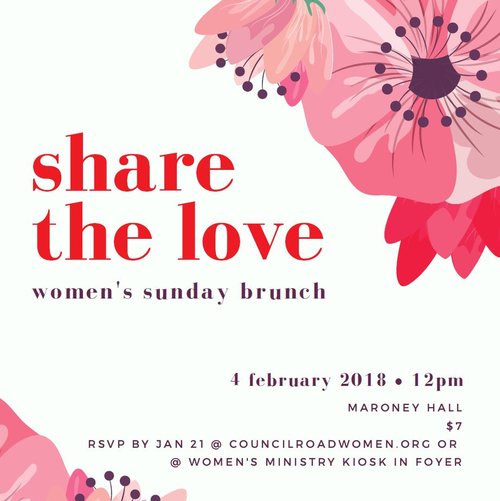 February 4, 2018 | Moroney Hall
Our mission is to create opportunities for women to connect with God and each other. Our Sunday brunches are for just that; connecting with old and new friends and leaning into a closer relationship with God.
It's not too late to reserve your spot, but hurry! Registration closes tonight.
Now through March 2018 | Wednesday & Thursday Mornings
Although our Spring studies have begun, women are ALWAYS welcome to join. View the topics here and reach out to Vickey Banks at banks@councilroad.org if you're interested.
The Word Alive with Lysa TerKeurst
March 23-24, 2018 | Crossings Community Church
Ladies, we want to invite you to a unique and exciting city-wide event. The World Alive Tour is an immersive and hands-on journey into God's Word that will allow you to experience Scripture like never before.
Register with CRBC for a Discounted Group Rate of $59. Register online, or at our Women's Ministry Kiosk in the Foyer.
April 20-21, 2018 | Falls Creek
This is the perfect weekend to getaway and enjoy worshiping the Lord alongside 3,000 women. Kay Arthur will be the key speaker, along with these amazing women! Don't miss out on a weekend with your best gal pals, while growing in the grace and knowledge of our Lord Jesus Christ.
Register now. Select our church: "Bethany, Council Road." List "Beth Snoddy" as Group Leader. Cost includes meals & lodging. Adults $75 til March 24, then $85. Students $50. Deadline: April 4
View a complete list of upcoming activities and events on our Calendar page, and check out our latest blogs below.
Meet the Author!
Mary Criner is a neat-freak and shopaholic who loves to continuously redecorate her house and organize things. As an introvert (like 110% on the scale), she's most content when spending time with her dog, Max, or family and close friends. She has a Bachelor's degree in Marketing and works as the Communications Director at Quail Springs Baptist Church. Mary enjoys volunteering in the CRBC student ministry and as the CRBC women's blog coordinator.